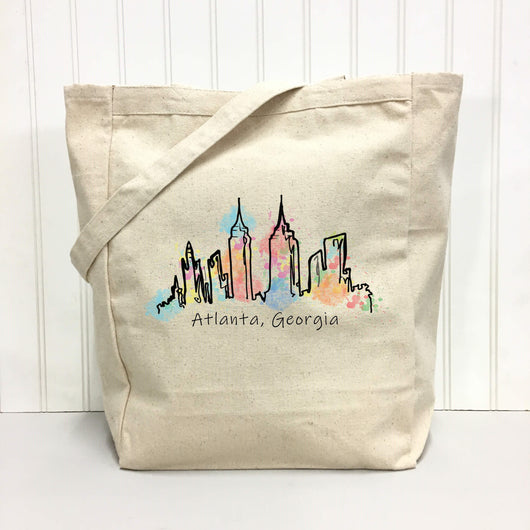 Atlanta Skyline Watercolor Tote Bag
Regular price $19.00 Sale
Introducing the "Cityscape Carryall" tote bag – the stylish solution for those who like their fashion as vibrant as the Atlanta skyline. Behold, a watercolor masterpiece on a tote, because who needs a canvas when you've got groceries to carry and a city to represent?
This tote doesn't just hold your essentials; it carries the spirit of Atlanta in every stitch. It's like a little piece of the Peach State decided to join your shopping spree. Imagine strutting down the street with this tote slung over your shoulder, turning heads and making other bags green with envy (or should we say, peachy with envy).
Need to grab some peaches for your cobbler? This tote's got you covered. Running late to a potluck? The Atlanta skyline is your fashionable excuse. It's not just a bag; it's a fashion statement that says, "I've got style, I've got groceries, and I've got a tote with a skyline – beat that!"
So, whether you're hitting the farmer's market, the mall, or just strutting around town, let this tote be your urban accessory, reminding everyone that Atlanta isn't just a city; it's a fashion icon. Walk on, Southern trendsetter, walk on. 🍑👜🌆
This 100% cotton tote bag is a fun way to stay organized and keep your hands free! 
Design is also available as an apron here and as a tea towel here.