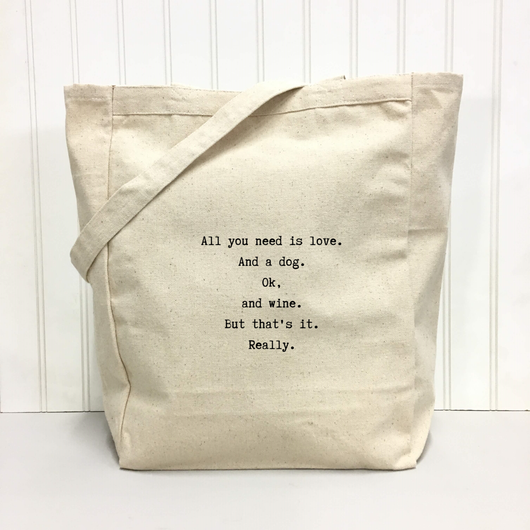 All you need is love. And a dog. Ok, and wine. But that's it. Really.
Regular price $19.00 Sale
Presenting the "Carry Your Essentials with Sass" tote bag – the go-to accessory for anyone who knows that life's necessities fit perfectly into one convenient, chic sack. Behold the wisdom emblazoned on this tote: "All you need is love. And a dog. Ok, and wine. But that's it. Really."
This tote isn't just for carrying your stuff; it's a declaration, a philosophy, and a cheeky guide to a well-balanced existence. Picture yourself strolling down the street, your tote slung casually over your shoulder, broadcasting to the world that your priorities are as simple and essential as the items in this bag.
Need love? Check. Craving canine cuddles? Double-check. Thirsty for a good time? Triple-check – there's a spot for your favorite bottle right in the tote. It's not just a bag; it's a statement that says, "I've got my priorities straight, and they fit snugly into this stylish tote."
So, whether you're headed to the grocery store or a friend's house for a cozy night in, let this tote be your trusty sidekick, proudly proclaiming that life's essentials are love, dogs, wine, and a bag that understands your sense of humor. 🐾🍷💖
This 100% cotton tote bag is a fun way to stay organized and keep your hands free! 
Design is also available as an apron here and as a tea towel here.